Roofs play a crucial role in protecting our homes and keeping us safe from the elements. However, with so many different roof types out there, it can be overwhelming to know which one is right for you. In this article, we will explore three basic roof types that are commonly used in residential and commercial buildings. By understanding the characteristics and advantages of each type, you'll be better equipped to choose the perfect roof for your needs. So, whether you're building a new home or considering a roof replacement, let's dive into the fascinating world of roof types together!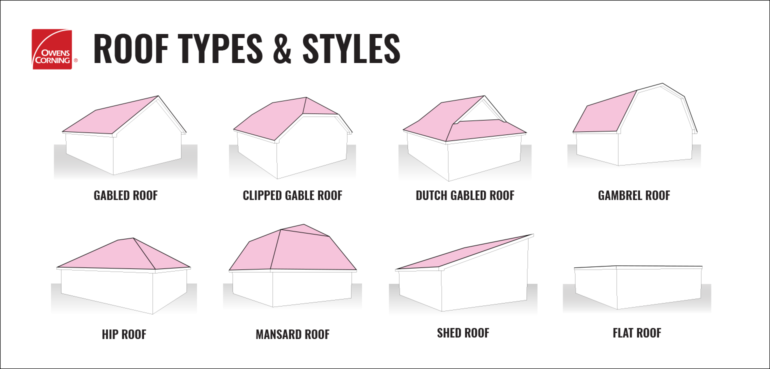 Flat Roof
Definition
A flat roof is a type of roofing structure that has a horizontal or nearly horizontal surface. Unlike other roof types, a flat roof does not have any slope or steep pitch. It is typically made up of a single membrane layer or multiple layers of roofing materials with a slight pitch for drainage.
Advantages
Flat roofs offer several advantages that make them a popular choice for both residential and commercial buildings. One of the main advantages is the cost-effectiveness. Flat roofs tend to be less expensive to install and maintain compared to other roof types. Additionally, they provide additional usable space on top of the building, which can be used for various purposes such as rooftop gardens, recreational areas, or as a platform for solar panels.
Another advantage of flat roofs is their ease of access. Due to their low inclination, flat roofs are easier to access and perform maintenance on compared to roofs with steep pitches. This makes it simpler for roof inspections, repairs, and installation of additional equipment such as HVAC units or satellite dishes.
Furthermore, flat roofs are more stable in high winds compared to sloped roofs. The shape, or lack thereof, of a flat roof reduces the chances of wind uplift, making them less prone to damage during severe weather events.
Disadvantages
While flat roofs offer numerous advantages, they do have some disadvantages that need to be considered. One major drawback is the issue of water drainage. Flat roofs require proper installation and regular maintenance to ensure effective drainage and prevent water from pooling, which can lead to leaks and structural damage. Without adequate slope or a well-designed drainage system, water can accumulate and cause significant problems.
Another disadvantage of flat roofs is their vulnerability to leaks. With other roof types, any water that gets underneath the roofing materials would simply flow down and off the roof due to its slope. However, on a flat roof, water can easily seep into the structure if there are any gaps or defects in the roofing material or if the roof hasn't been properly maintained.
Lastly, flat roofs may require more frequent maintenance and repair compared to sloped roofs. The buildup of debris, such as leaves or branches, is more likely on a flat surface, leading to potential clogs in the drainage system. Regular inspections and prompt repairs are necessary to ensure the longevity and functionality of a flat roof.
Uses
Flat roofs are commonly used in both residential and commercial construction. In residential buildings, they are often found in modern or contemporary architecture styles. Flat roofs provide a sleek and minimalist aesthetic, allowing for clean lines and a more modern appearance.
In commercial construction, flat roofs are widely used due to their cost-effectiveness and versatility. They are commonly seen on office buildings, warehouses, retail spaces, and industrial facilities. The additional usable space on top of the building can be utilized for rooftop amenities such as rooftop bars, gardens, or as a space for HVAC equipment.
Overall, flat roofs are a practical choice for buildings where cost, accessibility, and additional usable space are important factors. With proper maintenance and regular inspections, a flat roof can provide a durable and functional roofing solution.
Gable Roof
Definition
A gable roof, also known as a pitched or peaked roof, is one of the most common roof types. It is characterized by its triangular shape, created by two sloping sides that meet at a ridge or peak, forming a gable at each end.
Advantages
Gable roofs offer several advantages that have contributed to their popularity. One major advantage is their excellent water-shedding capability. The steep slope of a gable roof allows for efficient drainage, preventing water from pooling and reducing the risk of leaks caused by water infiltration. This makes gable roofs highly suitable for areas prone to heavy rainfall or snow accumulation.
Another advantage of gable roofs is their ventilation properties. The triangular shape of the roof creates a large attic space, which can be properly ventilated through ridge vents or gable vents. Good ventilation helps to regulate indoor temperature, reducing the need for excessive air conditioning and increasing energy efficiency.
Gable roofs also provide space for additional storage or living areas within the attic space. This can be especially valuable in areas with limited floor space, as it allows for the utilization of vertical space without compromising the overall design and layout of the building.
Disadvantages
Despite their advantages, gable roofs also come with some disadvantages that should be taken into consideration. One significant drawback is their vulnerability to high winds. The shape of a gable roof creates large flat surfaces on each side, which can catch the wind and put stress on the structure. Without proper construction techniques and reinforcement, gable roofs may be more susceptible to damage or even collapse during severe storms or hurricanes.
Another disadvantage is their limited resistance to snow buildup. While gable roofs are generally efficient at shedding water, the same steep slope that allows for efficient water drainage can cause snow to accumulate and potentially cause roof collapse if it is not promptly removed. Regular snow removal and maintenance are crucial to prevent excessive snow loads on gable roofs.
Uses
Gable roofs are widely used in residential construction due to their classic and versatile design. They are commonly found in various architectural styles, including Colonial, Cape Cod, and Craftsman. The symmetrical shape and pitched rooflines of gable roofs provide a timeless and aesthetically pleasing appearance.
Gable roofs are also commonly seen in barns and other agricultural structures. The simple and economical construction of gable roofs makes them an ideal choice for these types of buildings, providing ample space for storage or housing livestock.
Additionally, gable roofs are utilized in some commercial buildings, such as churches or community centers, to create a visually appealing and grandiose architectural statement.
Overall, the gable roof's combination of functionality, aesthetic appeal, and versatility make it a popular choice across different building types and architectural styles.
Hip Roof
Definition
A hip roof is a roof type characterized by its gentle slopes on all sides. Each side of the roof slopes downward from the ridge to form a uniformly sloping surface, without any vertical gables. The ends of the roof are typically square or rectangular, giving it a pyramidal or hipped appearance.
Advantages
Hip roofs provide several advantages that make them a popular choice for both residential and commercial buildings. One key advantage is their superior stability and resistance to high winds. The gentle slopes and lack of gables reduce the chances of wind uplift and create a more aerodynamic shape, making hip roofs less vulnerable to wind damage compared to roofs with vertical gables.
Another advantage of hip roofs is their superior drainage capability. The slopes on all sides of the roof ensure efficient water shedding, reducing the risk of leaks caused by water accumulation or infiltration. This makes hip roofs suitable for areas with high precipitation or heavy rainfall.
Additionally, hip roofs offer excellent space utilization. The absence of vertical gables allows for a larger attic space compared to gable roofs. This additional space can be utilized for storage, living areas, or as an expansion opportunity in both residential and commercial buildings.
Disadvantages
Despite their advantages, hip roofs also have some drawbacks to consider. One major disadvantage is the increased complexity and cost of construction compared to simpler roof types. The intricate design and multiple slopes of hip roofs require more materials and labor, making them potentially more expensive to build or repair.
Another disadvantage of hip roofs is the reduced amount of natural light in the attic. The sloping sides of the roof limit the placement and size of windows or skylights in the attic space, resulting in less natural light and potentially requiring additional artificial lighting.
Uses
Hip roofs are commonly used in residential construction, particularly in areas prone to high winds or heavy precipitation. Their stability and efficient water shedding capabilities make them suitable for various architectural styles, including traditional, modern, and Mediterranean.
Hip roofs are also seen in commercial buildings, such as schools or apartment complexes, where durability and resistance to high winds are important considerations. The clean and timeless appearance of hip roofs adds an element of elegance to the overall design.
In regions with extreme weather conditions, such as hurricane-prone areas, hip roofs are often chosen due to their superior wind resistance. The absence of vertical gables helps to minimize the risk of wind damage, providing added protection to the structure.
Overall, hip roofs offer a combination of aesthetic appeal, stability, and functionality, making them a versatile choice for both residential and commercial buildings.